The Music Prize of the Federal Association of the Concert and Event Industry awards outstanding artistic achievements in the field of German musical life. Recipients of the award receive 10,000 euros in prize money and a certificate. The BDKV Music Prize is awarded annually, alternating between artists in the field of classical music and light music. It was first awarded in 2005.
The 2019 jury chaired by Pascal Funke, Honorary President of the BDKV, includes: BDKV Honorary President Michael Russ, Karsten Jahnke (Karsten Jahnke Konzertdirektion), Stephan Thanscheidt (FKP Scorpio) und Andreas Möller (Konzertbüro Schoneberg).
The prize is awarded to deserving performers who accomplish outstanding musical achievements and contribute to an innovative and diverse musical life in Germany.
Further information can be found in the statutes of the BDKV Music Prize.
The winners of the BDKV Music Prize 2019 are:
Hannah & Falco
The jury's explanation states: "Hannah & Falco's signature polyphonic singing grabs the listeners' attention and captivates them, as do the powerful, fresh solo voices of the singer/songwriter duo. The sound between folk, pop and Americana is special, Falco's English-language songs are energetic and soulful, yet varied and unmistakable. Through a first EP and impressive performances, the two have already been able to develop a fan base. Hannah & Falco are promising, their further development will be
exciting".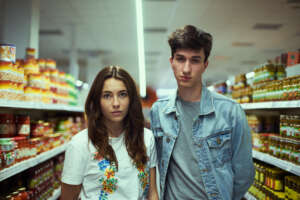 (c)Florian Josephowitz
Former winners of the BDKV Music Prize:
2018: Simon Höfele (Trompete)
2017: Alice Merton
2016: Alexej Gerassimez (Percussion)
2015: Joco
2014: Felix Klieser (Hornist)
2013: Heisskalt
2012: Natalia Gutman (Cellistin)
2011: Florian Ostertag
2010: Asasello Quartett (Streichquartett)
2009: Ruben Cossani
2008: Koryun Asatryan (Saxophonist)
2007: Triband
2006: Joseph Moog
2005: Madsen